Past Trips to Ireland with Blackthorn
July 27-August 6, 2019
Our new flyer for the 2019 Ireland Trip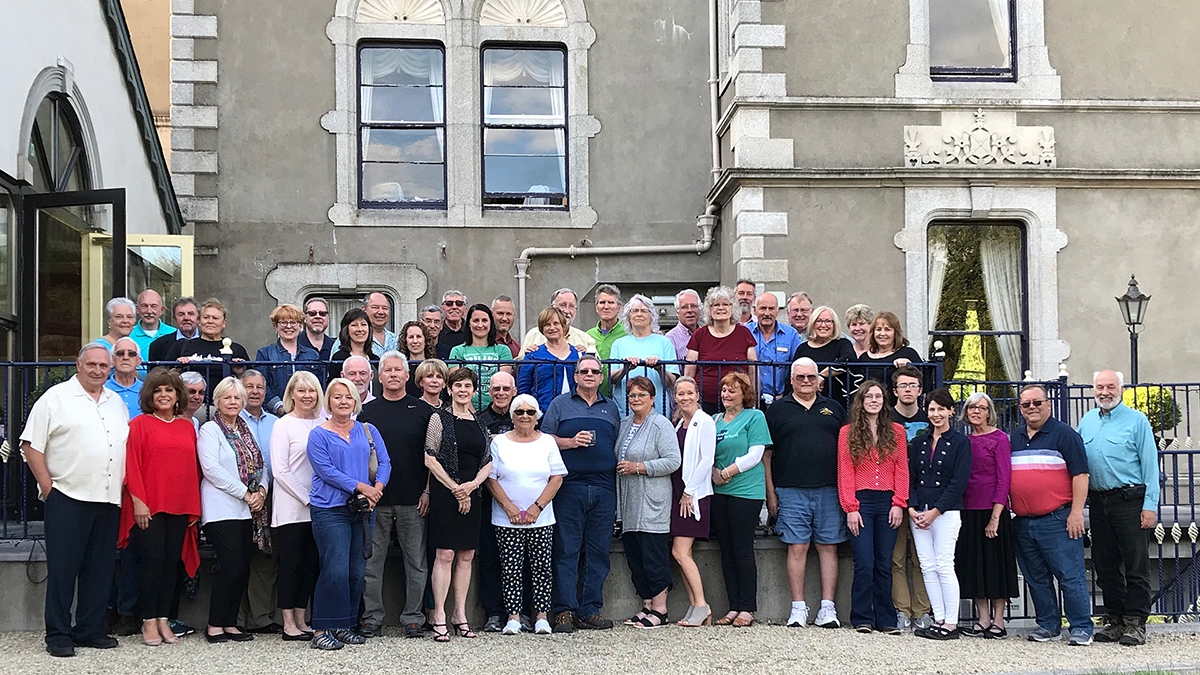 2018 Blackthorn travelers at the Killashee Hotel, County Kildare, Ireland
In July of 2018 we embarked on our eighth annual sold-out tour of Ireland. It was another amazing experience. We had a great time thanks to an enthusiastic group of travelers, beautiful four-star hotels, amazing food, and, of course, the local people and the beautiful sights and sounds of Ireland.
Join us in 2019 as our tradition continues. After some delicious tea and scones on our arrival our first stop will be at the famous Cliffs of Moher for some fabulous seascape views and a leisurely stroll. Then it's off to tour the Burren on our way to Galway where the pubs and nightlife are the best Ireland has to offer. Our 10-day journey has many amazing stops including the Aran Islands, home to Dun Aengus, a magnificent ancient ring fort; Ireland's beach and surfing regions in County Donegal; and Northern Ireland's rugged Antrim coast where we'll stop at the Giant's Causeway, a spectacular World Heritage Site. We'll also learn about "The Troubles" as we tour the cities of Belfast and Derry with expert guides who will explain the history of this historically troubled region. Along the way we'll stop in picturesque villages to watch Belleek Pottery being made, dig turf on an Irish bog, visit a working woolen mill and attend a fascinating falconry demonstration. And if this isn't enough, our fabulous 4-star hotels are an experience unto themselves. This year we have added the Breaffy House Resort, a magnificent 1890's Country House with old world Irish charm and contemporary spa and leisure facilities. Pamper yourself from their long list of holistic spa treatments. We conclude our journey in the millennial city of Dublin, where we'll see one of the world's greatest antiquities--the Book of Kells at Trinity College--and drink a pint at the Guinness Brewery. And, of course, all along the way there will be free time to shop and enjoy the pub scene (CLICK HERE FOR THE FLYER WITH FULL DETAILS).
This is not a "performance tour" but we will certainly be singing and playing a few tunes along the way. We're limited in what we can do without our full complement of band gear. However, there will be plenty of local musicians to enjoy. To get an idea of what a Blackthorn tour is like check out this photo show of our 2018 tour (CLICK HERE)
You need not be from Michigan to join us. Isle Inn Tours can make flight arrangements from wherever you may live. We have had many out-of-state people join us so your location is not a problem.
If you want to reserve your spot simply complete the application form and send it to Isle Inn Tours with your deposit. You cannot do this online. They need the hard copy of the application and a check. We already have more than a dozen deposits prior to this posting (October 2018) so we are pretty sure that the trip will sell out rather quickly. Space is limited. Please feel free to email Andrea at Isle Inn Tours with your questions
CLICK HERE to go to the Isle Inn Tours website. Thanks for checking out our tour.
Best wishes,
Dennis, Fred, Gary and Richard
BLACKTHORN